TURNED UPSIDE DOWN: ARTIST-IN-RESIDENCE SAM DURANT EXAMINES NATIVE AMERICAN HISTORY IN NEW SCULPTURE
Read the full article at the
WalkerArt.org archives
.
"As a boy growing up in Massachusetts, Sam Durant formed a lasting connection to the Midwest when he wrote a grade-school research paper on the American Indian Movement (founded in Minneapolis) and the 1973 conflict between Oglala Sioux activists and the FBI at South Dakota's Pine Ridge Reservation. Now a Los Angeles-based artist, he's returning to Native American themes through a new sculpture to be installed this month in the Minneapolis Sculpture Garden. The culmination of Durant's yearlong Walker artist residency, this Walker-commissioned work includes an upside-down tree cast in bronze, presented on a reflective steel plate and animated by a soundscape created with students from Four Directions and Heart of the Earth charter schools in Minneapolis and pow-wow participants from the Little Earth housing community. The piece is titled Walker Art Center Garden Project with Audio Narrative, Ojibwe, Lakota, and Dakota Truths and Myths from the Invisible Present, Past, and Future-plus Retrocession Monument: Direction through Indirection (Bronze Version)."
This piece was fabricated by Anurag Art in 2002/2003.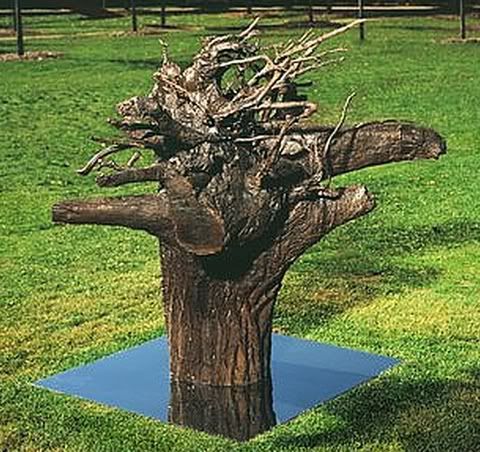 The text that was posted with this photo in WA Archives: "Sam Durant
WALKER ART CENTER GARDEN PROJECT WITH AUDIO NARRATIVE, OJIBWE, LAKOTA, AND DAKOTA TRUTHS AND MYTHS FROM THE INVISIBLE PRESENT, PAST, AND FUTURE-PLUS RETROCESSION MONUMENT: DIRECTION THROUGH INDIRECTION (BRONZE VERSION)
2003
Courtesy Blum and Poe, Los Angeles "
Tags:
sculpture
minnesota
bronze
art
blog
6:07 AM Permalink; for this post.
View blog reactions
Digg it!
Add to del.icio.us
Add to RawSugar
Spurl this!